Atlanta dreaming of a WNBA title in 2009
Last year, there was both good news and bad news with regards to the Atlanta Dream. The good news - you exist and your attendence was stellar for a franchise many people doubted on day one. The bad news - you looked like a new team, and were one of the worst teams (by record) in WNBA history. Let's see how Atlanta can change their fortune...
Busy "on-season"
There was nothing "off" about what Atlanta did over the past 6 months. After finishing last in the WNBA, they quickly went to work to change that. First, they picked up Sancho Lyttle in the Houston dispersal draft. Lyttle is athletic and will surely help Atlanta in the paint. Then, they picked up Chamique Holdsclaw (via trade), Chantelle Anderson (off of waiver wires) and Nikki Teasley (off the waiver wires). Holdsclaw, when healthy, is easily one of the best players in the world. And Teasley is something the Dream need. She's not the most offensive of point guards, but she has shown to be good at running teams. The Dream were definitely busy and I think you'll see it pay off.
What Went Wrong
When you look at their record, you could say there were a lot of things Atlanta did wrong in 2009. But let's get specific. The Dream were second to last in opponent's ppg, and gave up, on average, 10 more points to their opponents. There were also last in opponent's FG%. Despite being one of the league's taller teams, the Dream struggled defensively. Rebounding was also an issue, as the Dream were last in the league rebounds per game. It's safe to say, defense and rebounding were the Dream's main issues - which is probably why they picked up Holdsclaw, Anderson and Lyttle.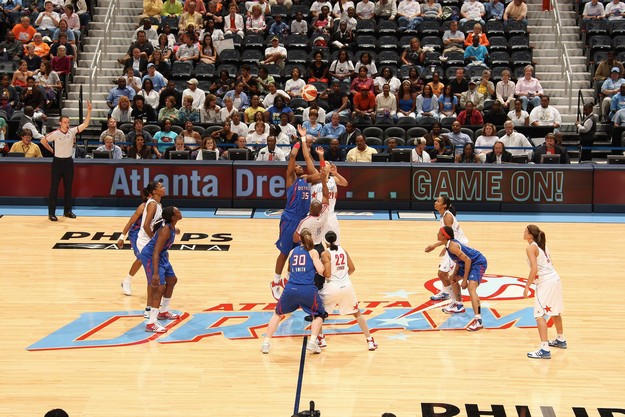 Bye Bye Betty
In one of the oddest free agency period stories, Betty Lennox, the Dream's best player, was waived by Atlanta. Why? Well, cap issues. The Dream have two players - Kristin Haynie and Katie Feenstra who are on guaranteed contracts. It's safe to say their both overpaid at this point. With additions of Holdsclaw, Lyttle, Anderson and Teasley, the Atlanta Dream add big bucks to their budget. They are now one of the more veteran-laden teams, which can be a good thing (on the court) and a bad thing (off the court - economically). With Lennox gone, the Dream now need to check on their perimeter a bit. Latta, Young, and Castro-Marques all seem to be at risk of being traded. The Dream need to cut some money (if they plan to also add in DeSouza) and they seem to like their front court (and they should). With three point guards on the roster, and Renee Montgomery playing the best in her career, Latta seems the most likely. However,she's very popular and was the face of that franchise for it's inaugral season. Only time will tell.

Feeling A Draft
The Atlanta Dream won the 2009 draft lottery and will select the first player of this class. For most of the year, many thought Angel McCoughtry was the odds on pick. She was a perimeter player who could score, but could also defend - just what they need. The comparisons to Swoopes are legit and she'd fit in well for the Dream. But, the Dream also have to look at two players - Renee Montgomery and Marissa Coleman. Coleman is the strongest of the three and has shown she is capable of taking over games. Now, I don't expect a Vanderbilt-like performance in the WNBA from her, but her skillset is very pro-ready. She can shoot, go off the bounce, rebound, block shots, ect. She does a lot. However, right now, Renee Montgomery might be the hottest player in America. Montgomery mixes a fast pace style with calmness and fluidityon the floor. Montgomery loves to push team (which is also what the Dream like to do) to either create for her teammates or score for herself (she's got a mean cross over). The point guard slot hasn't been a huge issue though for Atlanta. They're aleady overbooked at that position with three players, but none of the have been standouts. It'll be interesting to see if Atlanta goes for a need in McCoughtry or Coleman or best player available which to most could be Montgomery.
Posted by wnbadraftnet at 12:15 PM CDT
Updated: Monday, 6 April 2009 12:22 PM CDT